"Collecting is more than just buying objects." - Eli Broad 🧳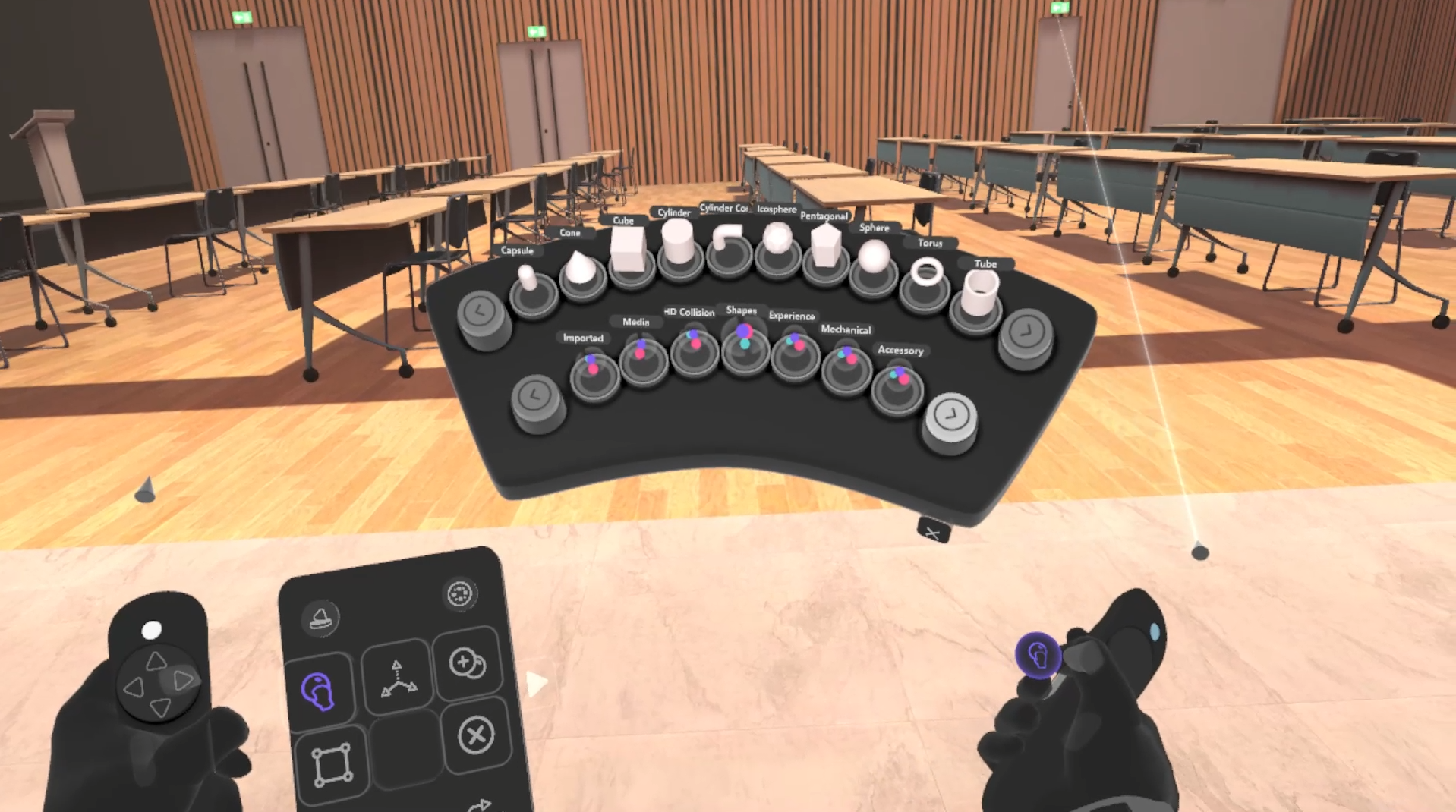 Collections is where all of your assets are stored.
Collections group all of your assets, and are located in the Menu of your Control Panel when you Create. To access your Collections, simply select the Collections icon in your Control Panel navigation bar or with your XR Watch, and voilà! You'll have access to all the assets you need to make your StellarX Space and Experiences extra special.
Inside your Collections, you can browse various Collection Packs that include a variety of thematic assets that you can place to spruce up your StellarX Space.

⭐️ Although it's possible to Remove assets from your Space, it's impossible to permanently delete an asset from your Collections.
Opening and Closing Collections
To access and open up your Collections, select or press on the left button of the Control Panel's Navigation bar. To close the Collections, simply select or press on the same button via the Control Panel, or point and select the X button located directly on the virtual display, in the lower right-hand corner.
Browsing Collections
When you're browsing through your different Collections, keep in mind that the first or front row (i.e. the row closest to you), represents the different Collection Packs available.
🌟 It's important to note that imported collections are always included, (See Imported Assets), and empty collections are shown as an empty sphere.

The second or back row (i.e. the row furthest to you), represent the assets contained in the selected Collection Pack. It's possible to select assets from the pack to place in your Space.
🌟 Please note that there is a maximum limit of 512 items in each collection.

To browse the Collection Packs and Assets, use the navigation arrows located on either end of each row.
🌟 Did you know that you can Grab the Collections display? 😮 Simply Grab the Collections display with your hands, as you would with any other asset, and place wherever you'd like. This way you can keep your Collections open while keeping your workspace clear of any visual distractions as you create. Isn't that great?!
Collection Packs
Collection Packs group thematic assets together, making them easier to search and find. StellarX comes equipped with an ever-growing variety of Collection Packs to help you get started. Keep an eye on our Release Notes to keep tabs on the latest additions.
Here are just a few examples of the asset Collection Packs made available to you by the StellarX team:
Shapes 🔶 🔻 🔵
Nature 🌿 🌲 🌸
Tools 🔧 🔨 🗜
Structures 🏗 🏢 🗽
Lighting 💡 🚨 🕯
Kitchen 🍳 🍽 👩🏻‍🍳
Office 💼 👩🏼‍💻 🗄
Electronics 💻 ⌚️ 💾
Furniture 🛋 🛏 🛁
Storage 📦 🗑 🗃
Accessories 🔮 💎 🕯
Transportation 🚘 ✈️ 🚂
Experience Assets 📍🏷 ✨
Media Assets 🎬 🖼 🎶
Mechanical Assets ⛓ ⚙️ 🎚
Christmas 🎅🎄🎁
Particles ☔️💨🔥
Adding Assets to Your Space
From the Collections, it's possible to select assets from a selected Pack to place in your Space. Simply following these steps:
1. First, open up the Control Panel. Then, hover over and select Collections in the navigation bar. ​
2. Browse your Packs using your controller and open them up to see what's inside.
3. To select an asset from your selected Pack, hover over it and you'll notice a white highlight appear around the asset. ☝️ Don't jump! You'll also feel a slight vibration in your controller indicating that the asset can be placed in your Space.
Next, to place the asset in the Space, it's possible to proceed in two ways:
Use your editing hand's virtual controller pointer to select an asset. Then, drag the asset out from the Pack and place it in your Space.
or
Reach in to the Collections and Grab the asset miniature with either of your hands; then place the asset in your Space.
4. Once the asset is placed in your Space, it will automagically take on its new size as it appears, right in front of you. Some assets will keep their full size while others might be resized to fit in a 1x1x1 cube if the asset is too big.