"A perfect summer day is when the sun is shining, the breeze is blowing, the birds are singing, and StellarX got an awesome new release!"💎
Hello there, 👋🏻
We have been working diligently since our last May update to bring you some exciting new features and improvements in StellarX!
New Features 💫
Multiplayer in Create Mode
We're thrilled to announce the arrival of Multiplayer in Create Mode! The StellarX team has put in a lot of effort to deliver the first iteration of this feature, allowing you to share your creative experiences with others. Here's how it works:
Select your Space in your Basecamp to enter Focus View.
In the Information Panel (on the right), click the "Share my Space" button to generate a code.
Share the code with a friend or coworker (they can download it by entering the code in the Shared Spaces section).
Enter the Space in Create mode.
Enjoy the collaborative experience!
Please note that this is the initial version of Multiplayer in Create Mode, and some features are not yet available. Here's what you can do:
Create immersive experiences with friends.
Add assets from the collections to your Space.
Interact with assets using all Control Panel tools (Grab, Transform, Clone, Delete, Undo, Redo).
Here's what you cannot do:
Collaborative scenario creation.
Adding and interacting with the following specific assets:

Canvas
Imported Assets
Media Panel
Web Panel
Particles
Waypoints
We apologize for not including these awesome assets just yet, but rest assured that our team is working hard to bring them to you as soon as possible! In the meantime, enjoy this new collaborative option and let us know your feedback!
Voice Assist
Now, you can perform various creation tasks without using hand or head gestures by speaking commands into the Voice Assist system! Find more information here: [Voice Assist documentation]

Avatar Recorder
The Avatar Recorder is an asset that allows you to customize your Space with avatars and NPCs. Simply place an Avatar Recorder from your library into your Space, remix it, and start recording your movements! The animation can be played and stopped using the PlayAnimation and StopAnimation nodes, adding life to your Space.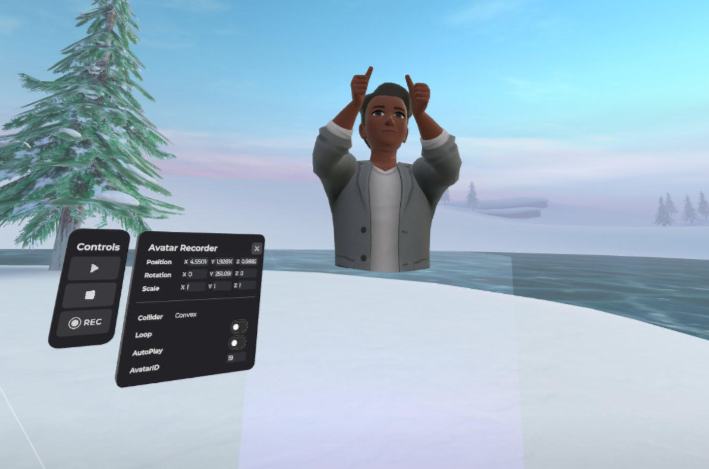 Shared Spatial Anchors
We added Shared Spatial Anchors in our Mixed Reality panel for the Standalone version (for Meta Quest 2 and Meta Quest Pro).
Shared Spatial Anchors enable the sharing of Spatial Anchors among users within a given physical space. This functionality enables the creation of local multiplayer experiences by establishing a shared, location-based frame of reference for multiple users
Improvements 👍🏾
We have enhanced the UI visuals and renamed several sections and features in the Basecamp to provide better descriptions.
We are incredibly grateful for the amazing support we've received since our Meta Release, and your feedback has been invaluable to us! Please continue to share your thoughts on how we can improve your StellarX experience. Stay tuned for future updates and enjoy the journey with us! 🎉
Cheers,
- The StellarX Crew ✨